How To Remove Vinyl Stickers From Your Car Without Damaging Paint
Vinyl stickers or decals are often used for car modifications. Some people use them for personalisation while others might use it for advertisement or commercial purposes. However, you might not want to change or remove them after a while. While it is not impossible, it does carry the risk of damaging the paint beneath the sticker.
In this guide, we will explain how to remove car decals without damaging paint. There are multiple ways to go about it. You will need different tools and the right technique to get the sticker off without a scratch.
6 WAYS OF REMOVING VINYL DECALS FROM THE CAR
There are certain chemicals and household products that can be used for vinyl decal remover. Along with this, you might require some other tools and items to ensure a safe and effective procedure. You can easily buy auto accessories in the Qatar online or from stores.
Let's move on to step by step explanation of different ways to remove decals from car paint and make your car sparkle.
RESIDUE REMOVER
Using a residue remover or decal remover is a safe and effective way of removing a sticker from your car's body. Since it is made for that purpose, it does a decent job without much hassle. There are several brand name products in the market such as Getsun Sticker Remover, Goof Off FG708 and Car Style Sticker Remover, which cost around QAR 25 to QAR 40.
Step 1: Clean the surface using a soup solution or glass cleaner.
Step 2: Heat the sticker with the help of a torch or hair dryer.
Step 3: Start scraping off the sticker from the edges.
Step 4: Rub residue removal solution and let it sit for a few minutes.
Step 5: Wipe it off from a microfibre cloth and polish the surface using wax.
WHITE VINEGAR
If you can't find a decal remover or don't want to use strong chemicals, you try this simple solution as well. You can also include it ultimate car maintenance checklist as it includes all the ingredients available at home.
Step 1: Clean the outer surface of the sticker.
Step 2: Apply some vinegar and let it rest for a few minutes.
Step 3: Scrap off the sticker with the help of a plastic card or an old credit card.
Step 4: Wash the surface with soap water and apply wax.
BOILING WATER
The process of boiling water requires safety precautions. Choose this option for removing decals from car only when you have protective equipment.
Step 1: Wear industrial rubber gloves and boots.
Step 2: Boil the water and pour it on the sticker.
Step 3: Repeat the process two times within the ten minutes interval.
Step 4: Rub the sticker and remove it gently.
Step 5: Wash the area and polish it with wax.
RUBBER WHEEL
It is another way of removing vinyl without damaging the car paint. You must have a drill machine and a rubber wheel to make this work.
Step 1: Install the rubber wheel in the drill machine.
Step 2: Clean the sticker surface.
Step 3: Buff rubber wheel on the sticker surface until the edges seem rough.
Step 4: Hold the rough edges and plough out the sticker.
Step 5: Wash the remaining glue and use wax to polish.
GARMENT STEAMER
Using steam to remove stickers is the oldest method. Generally, car detailing companies use this for commercial purposes. Instead of a commercial steamer, you can use a garment steamer.
Step 1: Heat the steamer for approximately 10 minutes.
Step 2: Apply the heat directly to the sticker.
Step 3: Repeat the process two to three times.
Step 4: Scrap off the sticker.
RUBBING ALCOHOL
Using rubbing alcohol is the safest and most effective way.
Step 1: Clean the surface.
Step 2: Pour some rubbing alcohol and let it rest for a few minutes.
Step 3: Rub the sticker and remove it.
HOW TO REMOVE VINYL STICKERS FROM WINDOWS USING FLAT BLADE
It is not recommended to use regular sharp blades on the windshield and windows. Use flat razor blades for this purpose.
Step 1: Clean the surface using glass cleaner.
Step 2: Scrap the sticker from a flat razor blade.
Step 3: Apply glue remover on residue.
Step 4: Spray glass cleaner and wipe it off.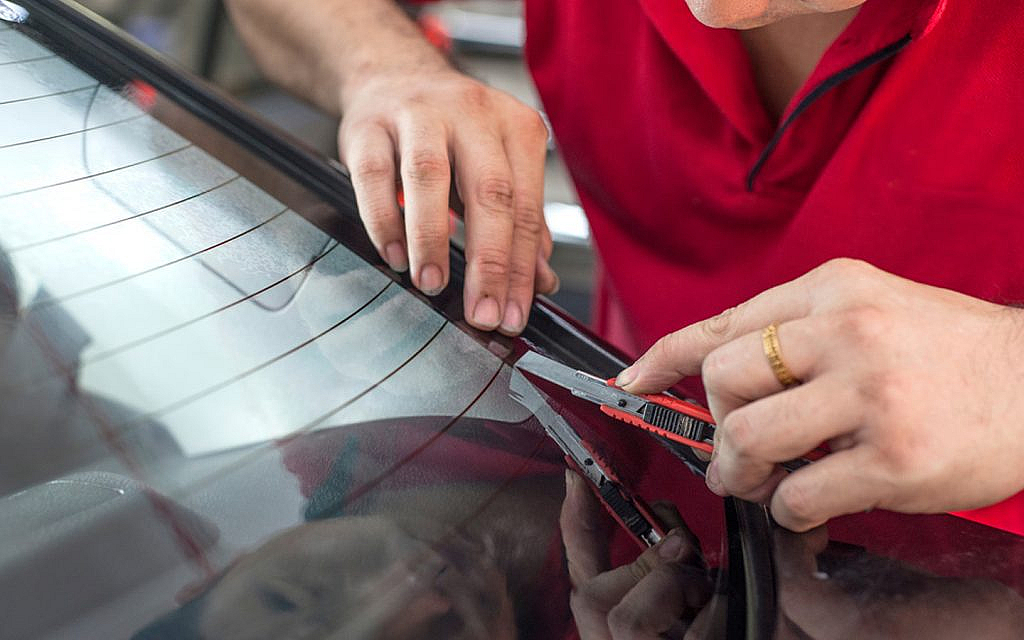 PREVENTIVE MEASURES
Now, you are aware of how to remove vinyl stickers from cars using different products – but there are some preventive measures that you should consider.
Do not use any sharp blade or object to remove stickers. You may end up scraping off the paint.
Pay attention to the adhesives, as they can build up dust piles if left untreated.
Make sure all the heating elements are at moderate temperature. High temperature can affect your car's exteriors.
Be cautious while using water and steam. Wear gloves to avoid accidents.
You may know how to remove car decals without damaging paint, but it is still challenging. It requires care and patience to complete the task. Trying to remove stickers at home is risky, and therefore, it is suggested to visit professionals. Moreover, car professionals also count stickers as a major factor in decreasing your car's resale value. If you are in search of a used car without any sticker or damage, browse through used cars for sale in the Qatar.
Stay tuned to top auto blog in the Qatar for more interesting ways of maintaining your cars.